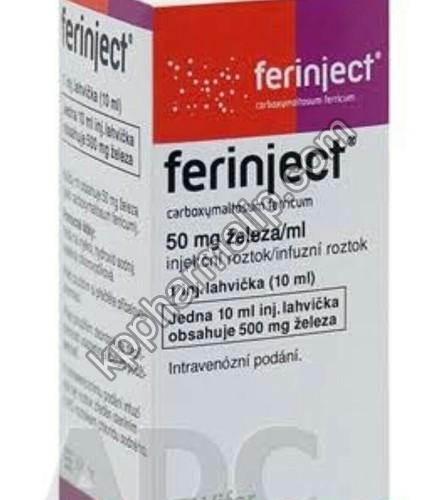 Ferinject Injection Exporter in Mumbai serves the needs of customers all over the world. Bulk orders are also accepted by the exporter.
Ferinject Injection of 10 ml is the right solution to the group of anti-anemic medicines used to cure iron deficiency anemia in patients who are intolerant to oral iron preparations, have non-dialysis dependant chronic kidney disease, or need a faster build-up of iron stores. The deficiency of iron or anemia is a state of the body in which the body doesn't have sufficient red blood cells for carrying sufficient oxygen to different tissues of the body.
Presence of ferric carboxymaltose
Ferinject Solution has 'ferric carboxy maltose, which works as a source of iron and assists in the moving of oxygen all through the body and the production of red blood cells. Thus, the medicine assists in curing anemia and body processes.
• The injection will be managed by a health professional; do not self-administer. In many cases, you might face a specific common adverse effect which includes nausea, flushing, high blood pressure, dizziness, and low levels of phosphorus in the blood. The majority of the adverse effects don't have side effects do not require medical attention. It will resolve steadily over time. However, you are suggested to talk to the doctor if you face the adverse effects persistently.
• Allow your physician to know if you are following any prescription, non-prescription drugs, or herbal products before starting the treatments. If you are recognized to be allergic to any of the elements in Ferinject Injection 10 ml, it would be better to discuss it with your doctor. Discuss with a doctor before starting the medicine if you are pregnant, trying to get pregnant, or breastfeeding. Moreover, it is not suggested for kids below 14 years as safety and efficacy have not been established.
Adverse side of Ferinject Solution for Injection
The majority of the side effects doesn't need any medical attention and disappear as your body adjusts to the tablets. Discuss with your doctor if they persist or if you're troubled about them.
Common side effects of Ferinject
• Vomiting
• Nausea
• Headache
• Dizziness
• High blood pressure
• Dark colored stool
• Pain, swelling, redness
Special Advice
• Constant monitoring of blood pressure and level of phosphorus whilst on treatment with Ferinject Injection 10 ml is advised.
• A Ferinject Injection of 10 ml might result in blackening darkening of the stools. It can interfere with test results. Let the people doing the tests that you are taking Ferinject Injection 10 ml if you are having the tests on your stools.
• From time to time blood tests while taking Ferinject Injection 10 ml is advised.
• Your nurse or doctor will administer it by injection. It will be noticed for at least 30 minutes after each injection as it may ground an allergic reaction.

Ferinject Injection Exporter from India serving the needs of the customers. It acts as a source of iron and assists in the transportation of oxygen throughout the body and the manufacture of red blood cells.